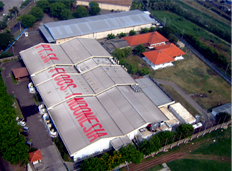 Ever since its foundation, SK FOODS has been a fussy manufacturer working under the motto "A customer's smile is the source of our happiness".
In the modern age, with food safety coming increasingly under the microscope, the true value of products has come to be questioned, including the right balance between taste, reliability, safety, health and price. A frozen product that allows long-term storage through rapid freezing without the need for additives is certainly a food product that matches modern needs perfectly. Our company's focus in on "shrimp" as the main ingredient of our key products and we have maintained a meticulous approach to freshness and safety at the same times as implementing on going technological innovation. It was this fastidious approach that encouraged us to begin making products using extensively cultivated shrimp from Indonesia, which still maintains rich traditions in this field. By raising shrimp in a huge extensive cultivation pond in virtually natural conditions by utilizing the natural landscape and making products that retain the natural sweetness and flavor of shrimp at our wholly-owned local plant, we are able to secure the best possible freshness. What's more, after more than 10 years of research and develop seeking to achieve even better "taste, reliability, safety and health," SK FOODS has finally completed construction of a shrimp larvae hatchery in Indonesia. This has allowed us to trace back all processes from the mother shrimp through to the final product, and to establish a safe and integrated system.
For all types of business, protecting the environment will become an increasing important mission in the future.
SK FOODS works hard on product safety and a variety of environmental protection measures through its corporate activities. However we still want to achieve more and will carry out activities through our work that seek to improve the environment. Consuming resources is something that cannot be avoided in people activities, but it is absolutely essential that we make effective use of resources without placing a burden on nature. Nothing makes us happier than carrying out our corporate activities with deep consideration for the natural environment and making customer everywhere happy through our products.
We will continued to pursue daily innovation and unlimited "dreams and ambitions" in order to pass this happiness on to even more people.
1993  PT. SK FOODS INDONESIA plant is completed and operations launced.
1996  PT. SK FOODS INDONESIA establishes 500 employee system.
1998  Self-management through HACCP system is introduced for quality and hygiene management.
2005  Indonesian Ministry of Marine Affairs and Fisheries HACCP accreditation at PT. SK FOODS INDONESIA is obtained.
Hatchery is constructed (for hatching shrimp larvae). Operation of integrated management system for "reliability, safety and health" is launched.
2008  Our hatchery is accredited by the Indonesian Ministry of Marine Affairs and Fisheries as an Outstanding Seedling Production Facility Excellent (Top Rank).
2011  PT. SK FOODS INDONESIA obtains HACCP A Rank (Top Rank) accreditation from the Indonesian Ministry of Marine Affairs and Fisheries.