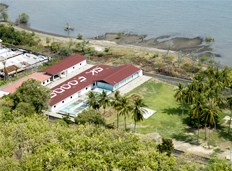 Raising shrimp in a virtually natural environment through our unique system.
We have constructed a "hatchery" in Situbondo, Indonesia, a location blessed with excellent water quality. The hatchery hatches spawn collected from mother shrimp and raises newly-hatched larvae until they can be kept freely in the extensive cultivation ponds. We have develop a unique system at SK FOODS to to raise shrimp primarily on plant and animal plankton* (organic feed) without giving them compound feed. *We also cultivate plankton feed at our specialist cultivation laboratory.
Newly- hatched larvae tanks



We have 20 newly-hatched larvae feeding tanks in operation, each with capacity of 20t.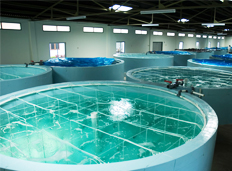 Water quality management is carried out 24 hours per day, 365 days per year.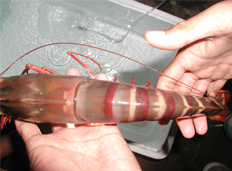 The mother shrimp are approximately 30 cm long and raised in specialist water tanks. Each shrimp lays between 100.000 to 8000.000 eggs.
Egg laying trough to hatching and shipment
After the eggs are laid and larvae hatched, the shrimp are carefully raised for approximately 3 weeks. During this time the shrimp molt repeatedly and undergo huge changes.
| | | | | | |
| --- | --- | --- | --- | --- | --- |
| | | | | | |
|  1. Laid eggs |  2. Naupilus |  3. Zoea |  4. Mysis |  5. Postlarvae | |